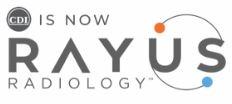 We Bring Brilliance to Health and Wellness.
As a leading national subspecialty provider for advanced diagnostic and interventional radiology services, RAYUS Radiology is challenging the status quo by shining the light on radiology and making it a critical first step in diagnosis and proper treatment. With more than 2,000 team members and over 400+ affiliated radiologists, we are committed to delivering clinical excellence in communities across the U.S., driven by our compassionate, safe, and cost-efficient care, and superior service to referring providers and patients.
RAYUS Radiology is the premier provider of high-quality radiology services such as MRI, PET/CT scans, along with minimally invasive techniques like interventional and vascular services, plus injections and biopsies. This extensive range of services is offered through our growing national footprint with 140 centers and short- and long-term hospital partner solutions across all 50 states.
We are currently involved in more than 150 clinical trial protocols. In addition, we acquire, manage, and distribute over 75 million images annually across modalities, putting us squarely at the forefront of the nation's shift to personalized, targeted medicine.
RAYUS Radiology is built on our brilliant medicine, brilliant team, brilliant technology and services—all to provide the highest level of patient care possible.